In Ground Pool Liner Patterns
Finest Quality Vinyl Material
The vinyl in our in ground pool liners is all made in the U.S. and Canada, unlike many other liner manufacturers. This provides the value and long-term benefit of increased liner longevity and durability.
The industry standard and the traditional choice, 20 mil wall and floor for normal conditions.
For an extra measure of protection from weather extremes, UV exposure, and abrasion, the 27 mil wall and 20 mil floor is an economical upgrade.
For the most challenging aquatic environments, the all 27 mil offers maximum durability and longevity. An additional charge may apply.
With three (3) new patterns added to the Garrett Premium Collection, now consists of four all over patterns offered in 28 mil. (An up-charge would apply). Nightlife, Paradise, Moonglow, and Essence give you the iridescence and shimmer of a finely cut opal. Marine adds all over texture, creating a unique feel and visual appearance.
Garrett is pleased to offer all of our floor patterns in a textured material for use on steps, benches, love seats and sun ledges. Click here to learn more.
All liners are also available in an all over bottom pattern, with no tile border. An up-charge would apply.
Click on an image to enlarge and to see how the liner looks in a pool (Not available for all patterns).
*Indicates there is an additional charge for this pattern in 27 mil
NEW for 2019!
The following patterns are also available in 2019!
Solid Colors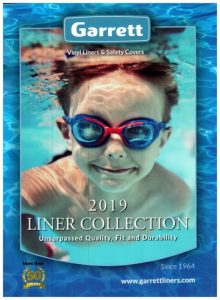 Click here to view the 2019 Garrett Liner Collection
Please note: Due to variations in photographic equipment and computer displays, the colors of the actual liners may vary from what is shown on your computer screen. Please contact your pool professional to view vinyl samples.
Find a Garrett Dealer near you.
Your Garrett Swimming Pool Liner Warranty