Safety Covers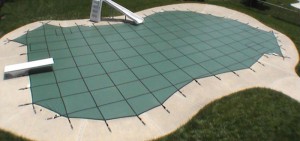 Unmatched Performance, Ultimate Protection
Garrett Safety Covers shield your pool from the damaging effects of fall and winter seasons, keeping leaves and other debris where they belong – out of your pool. This makes opening your pool in the springtime quick and easy.
We Put Safety First
Our safety covers provide a tamper-resistant barrier to help you protect children, pets, and wandering wildlife from the dangers of an unsecured pool. They're designed to conform to the stringent safety performance standards of ASTM F1346-91. They offer the strength and security that provide the ultimate in protection and peace-of-mind.
Years of Durability and Superior Performance
Garrett Safety Covers offer the industry's most complete line of features and benefits. What's more, the materials we use to manufacture our safety covers are made in the USA or Canada.
Great Fit. Whether your pool is a simple shape or complex design, you get a great custom fit. Your cover is designed by experienced designers using the latest in Computer Aided Design (CAD). Then it's fabricated by our skilled craftsmen.
Double Webbing System. We greatly increase the strength, security, and longevity of your cover by using a Double Webbing System: webbing on both the top and bottom of the fabric across the entire length, width, and perimeter of the cover. Most other covers use double webbing only on the perimeter and the portion of the underside of the cover that sits on the deck.
Triple Stitched. All webbing is triple stitched for added durability and strength.
Highest Quality Fabrics. All Garrett Safety Covers are made with the finest materials, which contain special inhibitors that help prevent rotting, stretching, cracking, and tearing caused by harsh weather conditions and the sun's damaging rays.
Garrett Safety Covers are available in 14 fabric types and colors. This allows homeowners to select the fabric and color that matches their taste and budget. Click here to view our attractive fabric choices.
Premium USA-Made Hardware. Your cover is kept properly tensioned by all USA-made, non-corrosive, stainless steel and brass hardware. Our stainless steel springs are "bent" at both ends to provide a lower profile and to allow the cover to remain flush with the deck. The springs are fitted with vinyl covers to protect your deck. We provide built-in D-rings on our springs, as well as providing buckles, so you can use whichever strap attachment method you prefer. The springs are secured to brass anchors that are flush with the deck surface when not in use.
Special Wear-Prevention Features. We provide extra protection at high-wear areas. Chafing strips under every strap where it crosses your coping, and reinforcing pads at all step corners and other sharp turns, maximize your cover's longevity. We also offer, at an additional charge, special perimeter padding along the edge of your cover for any areas with overly rough rock or coping to further protect the cover fabric.
Garrett Has Your Pool Covered
A safety cover does its job best when it is designed to perfectly fit your pool. We put more than a half-century of designing perfect fitting liners to work to ensure that we provide a great-fitting cover. Whether your pool is large or small, a simple rectangle or a complex custom design, you'll be amazed at how well your Garrett cover fits!
What's more, we'll create your custom pool safety cover to accommodate any obstacles, such as raised walls, varied deck levels, attached spas, grottos, and more. And you can use our covers for pool decks made of any material, including poured concrete, pavers, flagstone, wood deck, or grass. We can even design covers for pools with limited deck areas.
Fast Delivery & Affordable Products
When it comes to a custom designed safety cover you can count on Garrett for fast, dependable service. And even with all its quality features, you'll be pleasantly surprised at how affordable a new Garrett Safety Cover is.
A Tradition of Quality
Since 1964, Garrett has been manufacturing the industry's best fitting vinyl pool liners; we bring the same dedication, skill, and experience to our safety covers. It's this commitment to quality that has earned us a reputation for outstanding quality and exceptional service.
Our safety cover manufacturing staff is experienced and knowledgeable, allowing us to provide the expertise and support that our customers deserve. If you've been searching for a durable safety cover for your pool, contact Garrett Liners and Covers at (1-800) 222-3650 to find a Garrett dealer near you.
Click here for Mesh/UltraMesh Cover Warranty
Click here for Ultra Solid Cover Warranty